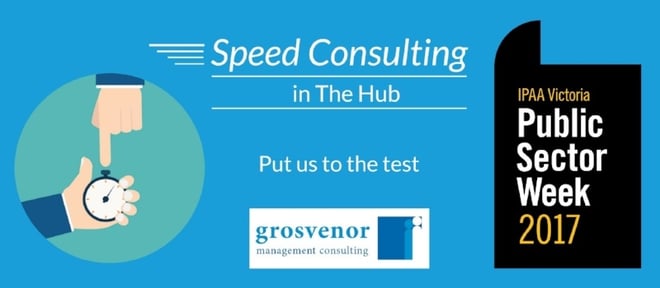 Speed Consulting in The Hub for attendees of Public Sector Week
IPAA Victoria Public Sector Week 2017 is the only event that brings together the entire Victorian public sector, for one week in one location, to drive fresh thinking and create a better future for all Victorians.
Grosvenor is delighted to partner with IPAA Victoria for a week of professional development, thought leadership and new connections.
With a long history of service to DELWP, DEDJTR, DHHS and DPC, we've been proudly serving the Victorian government since 1996 and are one of the few organisations approved by Department of Treasury and Finance to deliver all seven services under the Professional Advisory Services panel.
Join us in The Hub for Speed Consulting
Grosvenor's team of experienced management consultants helps the public sector ensure that their organisational structure and services, programs, contractors, and property portfolios are performing efficiently and effectively.
We're giving ticket holders of Public Sector Week the chance to put our consultants to the test.
We'll be running complimentary Speed Consulting sessions in The Hub. Give our consultants a run for their money by presenting them with your most challenging problem or burning question. They'll have 20 mins on the clock to come up with a path forward for you. And you'll even get a cupcake while you wait!
Register for Speed Consulting now!
Register below to book your speed consulting session today. Spaces are limited so get in quick. We look forward to the challenge!
Select your day (event days start from 8:00am) eg Select Tue, 15 Aug. (8:00am).
Select your Speed Consulting Session time for that day. You will only be able to select 1x spot for that session time. However you may bring a friend or colleague with you to your session.
Scroll to the bottom to click Register.
You will be taken to the Event Brite form to provide your contact details and question for our consultants to complete your registration.
Event Brite will email you confirming your registration. Reminder emails with your session details will also be issued 1 week prior and 1 day prior to your session.
NOTE: ONLY TICKET HOLDERS OF IPAA VIC PUBLIC SECTOR WEEK MAY REGISTER FOR SPEED CONSULTING SESSIONS. You may purchase your Public Sector Week tickets here.
Not attending Public Sector Week? Contact Kristy Hornby at kristyhornby@grosvenor.com.au to arrange an alternative time for a coffee and confidential chat. Her shout!